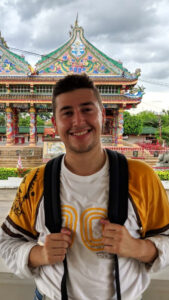 Maxime is pursuing a PhD at the CEA-Leti, Grenoble, co-supervised by Uclouvain's Prof. Jean-Pierre Raskin. His work focusses on the monolithic integration of 28 nm FD-SOI switches and RF components by developing new high-performance RF substrates with localized trap-rich-like solutions.
Research Projects
On-wafer RF & mm-wave measurements
RF material property extraction
TCAD substrate impact simulations
Silicon-based substrate modelling and development

RF-SOI: High Resistivity and Trap-Rich
PN junction-enhanced RF-Si substrates
Novel passivation solutions
Publications
M. Moulin, T. Fache, M. Rack, Z. Chalupa, Y. Morand, C. Plantier, F. Allibert, F. Gaillard, J. Lugo, L. Hutin and J.-P. Raskin, "High performance silicon-based substrate using buried PN junctions towards RF applications", 2021 Joint International EUROSOI Workshop and International Conference on Ultimate Integration on Silicon (EUROSOI-ULIS), Caen, France, 2021, pp. 1-4, Accepted.