Vendredi 22 octobre 2021, Vrije Universiteit Brussel
Comme chaque année, le CBL (Cercle Belge de Linguistique) a organisé une journée linguistique. Cette année la conférence a eu lieu le vendredi 22 octobre 2021 à la Faculté Letteren en Wijsbegeerte de la Vrije Universiteit Brussel.
La journée linguistique a été mémorable, avec un nombre élevé de présentations et de participants. Le programme comprenait 38 excellentes présentations (la plupart impliquant de jeunes chercheurs prometteurs), et un total de 74 participants étaient présents !
Programme | Book of abstracts
Prix de la meilleure présentation 2021
En raison de la grande qualité des présentations, le choix a été très difficile, mais le gagnant est :
Víctor Royo Viñuales (Université de Liège), "Adverbial Insubordination in Interaction: a pilot study on hypothetical-comparison constructions in French and Spanish".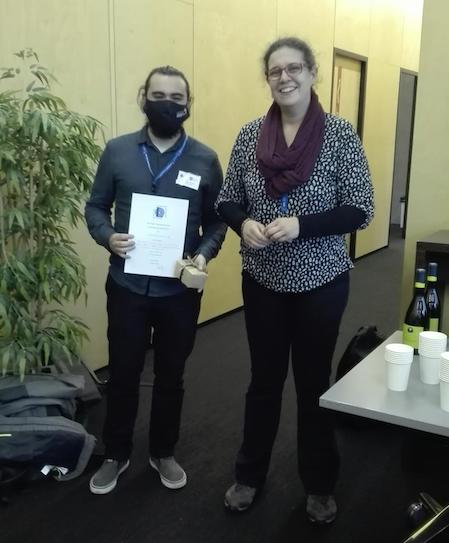 Merci aux nombreux membres du jury et au comité de délibération : Kate Bellamy, Cora Cavirani-Pots, Timothy Colleman, Bert Cornillie, Philippe De Brabanter, Damien De Meyere, Astrid De Wit, Liesbeth Degand, Thomas Hoelbeek, Tanja Mortelmans, Julien Perrez, Steven Schoonjans, Martina Temmerman, Rita Temmerman, Johan van der Auwera, An Van linden, Guido Vanden Wyngaerd, Eline Zenner, Marie Steffens (présidente du comité de délibération).
À l'année prochaine !
Au nom de l'organisation,
Thomas Hoelbeek
Laura Rosseel