Introduction to PBL - Introduction aux APP (formation bilingue)
[4 half days] - [starts on 07-12-2022 at 08:30] - [English] - [Louvain-la-Neuve]
Have you ever wanted to know more about PBL for one of your classes ?
Then joins us for this 2 day training session !

We will discover PBL, design a PBL module and experience PBL from the learner's point of view.

We will focus on 3 fundamental questions:
1) What are the main components of a typical PBL module ?
2) How to write a problem statement ?
3) What is the role of the tutor ? Does our assessment change and how ?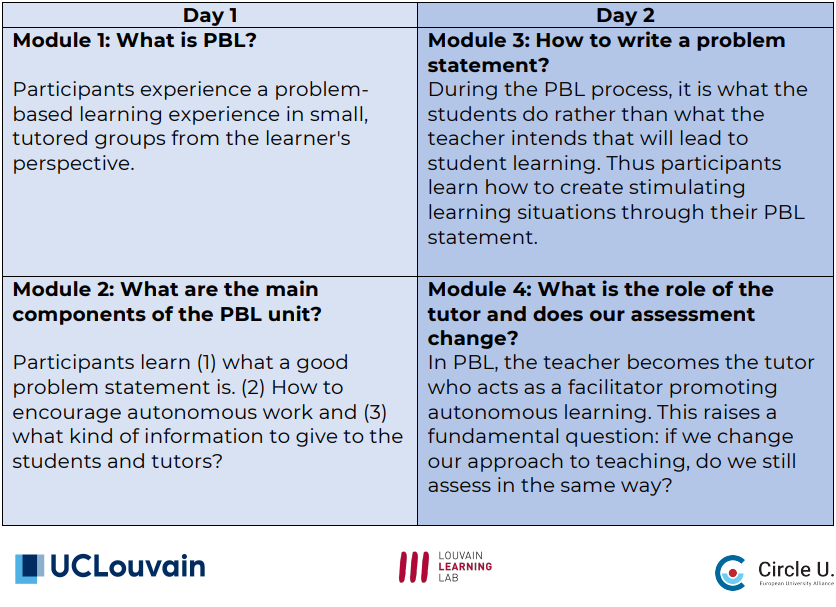 Trainers:
C. Jacqmot (UCLouvain) - Y. Mauffette (UQAM) - E. Milgrom (FA2L) - V. Nagy (U. Paris Cité) - B. Raucent (UCLouvain)
NB: If you wish to sign up only for some modules, you can do so by filling this form.

Training aims

At the end of the training, the participants will be able to
• Explain how PBL is different from traditional pedagogy
• Describe the foundations of PBL and the underlying principles
• Specify several conditions that must be met in order to successfully implement PBL
• Formulate a proper problem statement
• Describe the tutor function
• Propose new assessment approaches
Location
Louvain-la-Neuve : -
Bibliothèque des sciences et technologies
Place Louis Pasteur, 2
1348 Louvain-la-Neuve
Attendance
The training is open to all but requires prior registration.
Time slots for training
07-12-2022 from 08:30 to 17:00
08-12-2022 from 08:30 to 17:00

Rate
UCLouvain member, Invoice paid by a Belgian university, UCLouvain clinic member, UCLouvain student, Non-UCLouvain member : Training available free of charge but registration in advance is required.

39 available listings.
Please log in to register for this training.