Friday 22 October 2021, Vrije Universiteit Brussel
It was a memorable Linguists' Day with a high number of presentations and participants. The program included 38 excellent presentations (most of which involved young, promising scholars), and a total of 74 participants were present!
Best Paper Presentation Award 2021 
Because of the high quality of the presentations, it was a very difficult choice, but the winner is:
Víctor Royo Viñuales (Université de Liège), "Adverbial Insubordination in Interaction: a pilot study on hypothetical-comparison constructions in French and Spanish".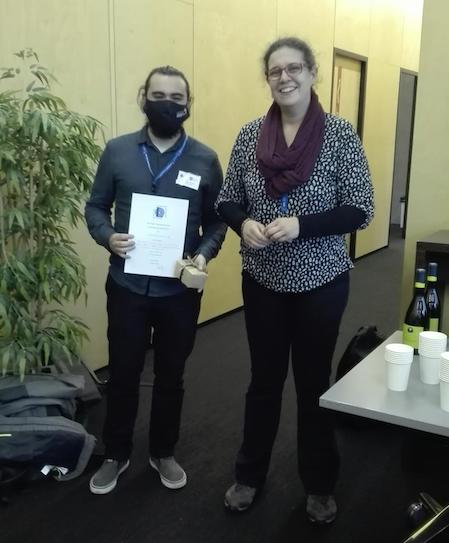 Thanks to the many reviewers and to the deliberation committee: Kate Bellamy, Cora Cavirani-Pots, Timothy Colleman, Bert Cornillie, Philippe De Brabanter, Damien De Meyere, Astrid De Wit, Liesbeth Degand, Thomas Hoelbeek, Tanja Mortelmans, Julien Perrez, Steven Schoonjans, Martina Temmerman, Rita Temmerman, Johan van der Auwera, An Van linden, Guido Vanden Wyngaerd, Eline Zenner, Marie Steffens (president of the deliberation committee).
See you next year!  
On behalf of the organizers
Thomas Hoelbeek
Laura Rosseel