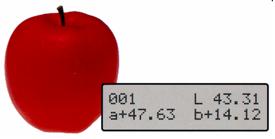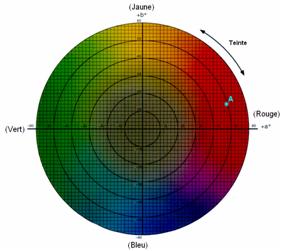 Figure 2 : Representation of the apple's color in the L*a*b* color space
(source : Minolta, "Precise color communication : color control from feeling to instrumentation", 1994.)
The L*a*b* color space (also referred to as CIELAB) is presently one of the most popular color space measuring object color and is widely used in virtually all fields. It reduces one of the major problems of the original Yxy color space : that equal distances on the x, y chromaticity diagram did not correspond to equal perceived color differences.
In this color space, L* indicates lightness, a* is the red-green chromaticity value and b* is the yellow-blue chromaticity value.
The center of the diagram is achromatic ( of white color); as the a* and b* values increase and the point moves out from the center, the saturation of the color increases. Figure 1 shows the CIE L*a*b* color space and figure 2 shows an horizontal section in this space, for a constant L* value. For example, the apple previously represented in the Yxy color space, can also be representeed by point A, marked at figure 2.
Figure 1 : L*a*b* color space
(source : Minolta, "Precise color communication : color control from feeling to instrumentation", 1994.)