Classification des fentes ou fissures faciales qui prennent la cavité orbitaire comme point de départ anatomique (sans lien avec l'embryologie ou la cause du défect, qui pourrait être une bande amniotique dans certains cas). On distingue 15 fentes numérotées de 0 à 14. (figure)
Certaines fentes sont la cause de malformations :
- fentes 0 et 14 : hypertélorisme
- fente 3 (orbitomaxillaire interne) : microphtalmie, anomalies des voies lacrymales
- fente 4 (orbitomaxillaire médiane) : malformation du plancher de l'orbite et du rebord orbitaire
- fente 5 (orbitomaxillaire externe) : microphtalmie et anomalies du tiers moyen de la paupière inférieure
- fentes 6 (intermaxillo-zygomatique), 7, 8 : syndrome de Treacher-Collins
- fente 7 (temporo-zygomatique) : microsomie hémifaciale
- fente 8 (fronto-zygomatique) : syndrome de Goldenhar
- fente 9 (orbitaire supéroexterne) : microphtalmie, anomalies angle supéroexterne de l'orbite
- fente 10 : colobome paupière supérieure et de l'iris, ablépharie
- fente 11 : hypertélorisme, colobome tiers interne palpébral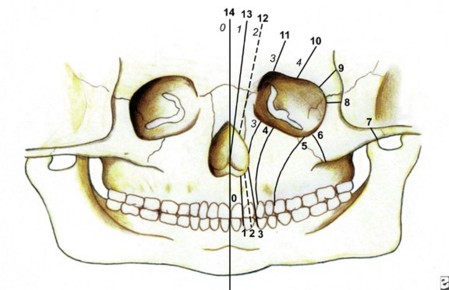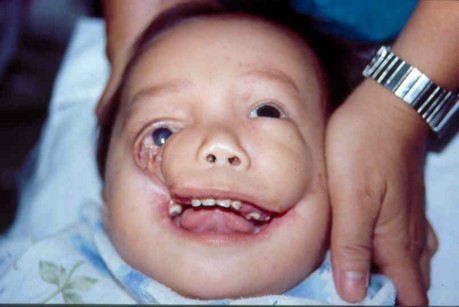 Implications anesthésiques:
risque d'intubation difficile mais surtout difficultés de ventilation au masque facial : il peut être utile de combler les défects osseux avec des compresses humides ou un film de pansement occlusif transparent, ou encore d'utiliser un matériau malléable comme celui avec lequel on réalise les empreintes dentaires; protection oculaire contre la pression et les érosions cornéennes ; masque laryngé utilisé avec succès pour ventiler et servir de guide pour une intubation au fibroscope
Références:
- Komatsu H, Matsumoto S, Mitsuhata H, Abe K.
Airway management in an infant with Tessier type 3 cleft.
Anesthesiology 199; 90: 1800.
- Carenzi B, Corso RM, Stellino V, Carlino GD, Tonini C, Rossini L, Gentili G.
Airway management in an infant with congenital centrofacial dysgenesia.
Br J Anaesth 2001; 87: 726-8.
- Kumar K, Ninan S, Saravanan PA, Prakash KS, Jeslin L.
Airway management in an infant with Tessier n 4 anomaly.
J Anaesthesiol Clin Pharmacol 2011; 27: 239-40.
- Tessier P.
Anatomical classification of facial, craniofacial and laterofacial clefts.
J Maxillofac Surg 1976; 4: 69-92.
- George B, Lagoo J, Narendra SM, Goerge J.
Anaesthetic management of a child with a rare congenital malformation: bilateral macrostomia as an isolated asyndromic entity.
Ind J Anaesth 2014; 58: 489-50.
- Ramachandran R, Rewari V, Kumar A.
Difficult airway management in an infant with bilateral Tessier number 4 cleft.
Acta Anesthesiol Belg 2014;65:77-80.
- Veerabathula P, Patil M, Upputuri O, Durga P.
Simple solution for difficult face mask ventilation in children with orofacial clefts.
Pediatr Anesth 2014; 24: 1106-8.
- Eichhorn MG, Iacobucci JJ, Turfe Z.
An unusual craniofacial cleft : amniotic band syndrome as a possible cause.
Int J Pediatr Otorhinolar 2015 ; 79 : 616-9
- Fandino A, Herrera AJ, Feo OE, Ronderos AM, Ospina JC, De Leon O.
Congenital meningocele associated with corpus callosum agenesis and midline superior labial cleft due to Tessier 0-14 facial fissure : a case report.
Int J Pediatr Otorhinolaryngol 2020; 130: in press
Mise à jour février 2020